Characteristics
ADOB® Microstarter K is a multinutrient, multifunctional fertiliser specifically designated for soil application to maize, sugar beet, rapeseed, potato, sunflower and vegetables. It takes the form of non-hygroscopic, dust-free, and free-flowing solid microgranules, all of which are uniform in size and shape.
Its analysis is multi-crop- customized at 4 – 30 – 20 + 11 SO3 + 0.4 Mn + 2 Zn and the latter two cations are EDTA-chelated. All nutrients are soluble and highly available to plants in their early developmental stages. When applied simultaneously with seeding in close proximity to the seeds/tubers, ADOB® Microstarter K accelerates the emergence of plantlets, boosts the development of their root system and improves plants' tolerance to cold/frosty spring or occasional drought events. As a result, plants can close inter-row spaces earlier and intercept more sunlight.
ADOB® Microstarter K increases yields' biomass. It boosts their sugar, starch and oil contents and significantly reduces the cull ratio.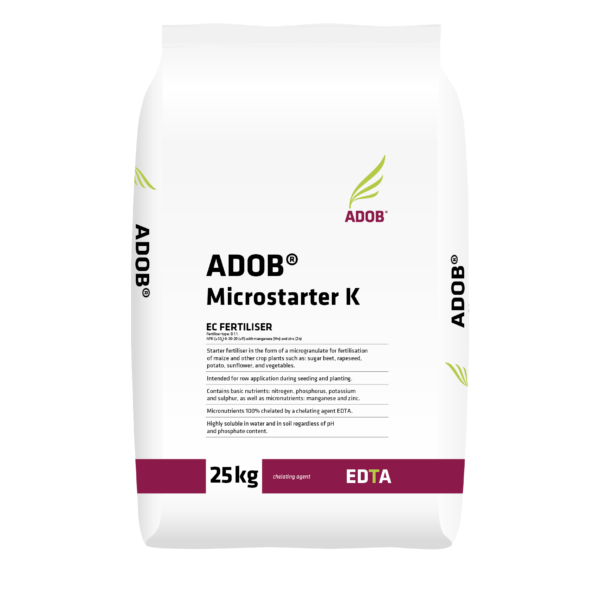 Features
100% chelation of micronutrients
enhanced stress resistance
Download
Scroll left/right to see more
Nutrients
Symbol
Content
[% w/w]
Form
Total nitrogen
N
4.0
– ammonium nitrogen
N-NH4
4.0
Phosphorus pentoxide
P2O5
30.0
soluble in a neutral-pH solution of ammonium citrate and water
Potassium oxide
K2O
20.0
soluble in water
Sulphur trioxide
SO3
11.0
soluble in water
Manganese
Mn
0.4
chelated by EDTA
Zinc
Zn
2.0
chelated by EDTA
Scroll left/right to see more
Crops
Number of applications per season
Time of application
Product application rate
[kg/ha]
Application method
Arable crops
Maize
1
during sowing
20-30
applied in the seed row, several cm away and beneath seeds/tubers
Sugar beets
1
during sowing
20-30
Winter rapeseed
1
during sowing
20-30
Sunflower
1
during sowing
20-30
Potatoes
1
during planting
20-30
Vegetable crops
Root vegetables
e.g. carrot, celery, beet
1
during sowing
20-30
applied in the seed row, several cm away and beneath seeds
Brassica plants
e.g. cabbage, cauliflower, broccoli
1
during sowing
20-30
Legumes
e.g. bean, pea
1
during sowing
20-30
Bulb vegetables
e.g. onion, leek
1
during sowing
20-30
Cucurbits
e.g. pumpkin, zucchini, cucumber
1
during sowing
20-30