Characteristics
ADOB® PO is a multinutrient, multifunctional concentrated liquid fertiliser specifically designated for soil application to potatoes. Its analysis is crop-customized at 16 – 3.2 – 4.2 + 0.36 MgO + 0.7 SO3 + 0.06 B + 0.16 EDTA – Cu. All nutrients are readily and quickly available to potato plants in their early developmental stages.
When applied simultaneously with planting, ADOB® PO accelerates the emergence of plantlets, boosts the development of the root system, intensifies initial growth and improves tolerance to cold spring or occasional drought events. As a result, plants can close inter-row spaces earlier and intercept more sunlight. ADOB® PO improves tuber size uniformity, increases tubers' external and internal qualities, and reduces cull ratio.
Applying ADOB® PO when planting also offers the grower savings on field operations and NPK rates by providing higher nutrient-use efficiency.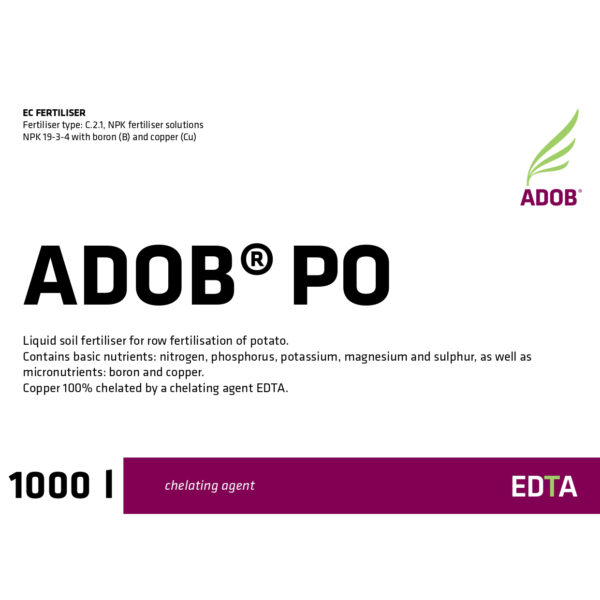 Features
contains sulphur and magnesium
lower fertilisation costs
Download
Scroll left/right to see more
Nutrients
Symbol
Content
[% w/w]
Content
[% w/v]
Content
[g/l]
Content in 400 l/ha
[kg/ha]
Total nitrogen
N
16.0
20.0
200.0
80.0
– nitrate nitrogen
N-NO3
4.0
5.0
50.0
20.0
– ammonium nitrogen
N-NH4
4.0
5.0
50.0
20.0
– amide nitrogen
N-NH2
8.0
10.0
100.0
40.0
Phosphorus pentoxide
P2O5
3.2
4.0
40.0
16.0
Potassium oxide
K2O
4.2
5.25
52.5
21.0
Boron
B
0.06
0.075
0.75
0.3
Copper
Cu
0.16
0.2
2.0
0.8
Contains magnesium (Mg) and sulphur (S)
Density 1.24-1.26 g/cm3
Scroll left/right to see more
Crops
Number of applications per season
Time of application
Product application rate
[l/ha]
Potatoes
1
row application during sowing or entire soil surface coverage by spraying

400