Characteristics
ADOB® Micro Legumes is a multinutrient, multifunctional crystalline fertiliser. This fully water-soluble product is specifically designated for foliar feeding of leguminous crops (e.g. peas, beans, soybeans, chickpeas, alfalfa and peanuts). Its composition has been precisely developed to meet the mineral requirements of these crops, with high levels of phosphorus (P), boron (B) and zinc (Zn) in particular. All other micronutrients (copper (Cu), iron (Fe), manganese (Mn), and molybdenum (Mo)) are present and the requirement for cobalt (Co) is also satisfied.
All micronutrients (except boron, molybdenum and cobalt) are chelated by the classic EDTA agent, while those that cannot be chelated (i.e. boron, molybdenum and cobalt) are present as water-soluble, inorganic components. As a result, all nutrients are readily and quickly available to plants. This unique combination of essential nutrients optimises root development and enhances their synergism with nitrogen-fixing bacteria. The fertiliser increases the growth of the aboveground biomass, especially in terms of pod production and high-protein grains.
ADOB® Micro Legumes also boosts plants' vigour, health and tolerance to occasional water deficit stresses.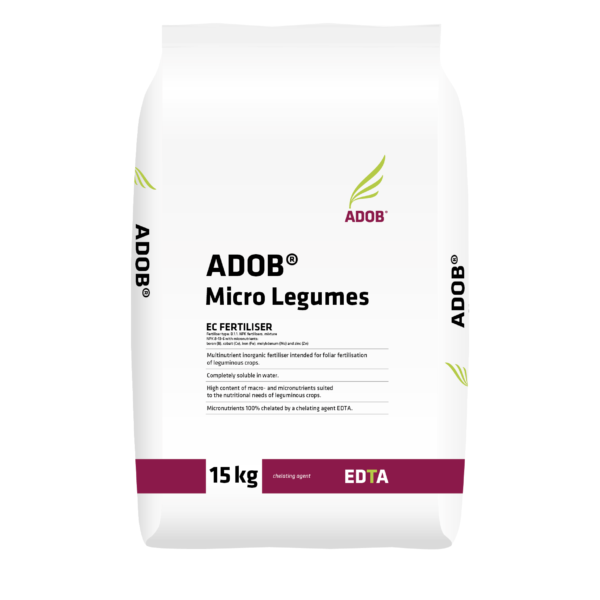 Features
100% chelation of micronutrients
enhanced development of all plant parts
macro- and micronutrient fertiliser
high molybdenum and boron content
Download
Scroll left/right to see more
Nutrients
Symbol
Content
[% w/w]
Form
Total nitrogen
N
8.0
– ammonium nitrogen
N-NH4
3.0
– amide nitrogen
N-NH2
5.0
Phosphorus pentoxide
P2O5
13.0
soluble in a neutral-pH solution of ammonium citrate and water
Potassium oxide
K2O
6.0
soluble in water
Boron
B
6.5
soluble in water
Cobalt
Co
0.05
soluble in water
Iron
Fe
0.1
chelated by EDTA
Molybdenum
Mo
0.4
soluble in water
Zinc
Zn
2.5
chelated by EDTA
Scroll left/right to see more
Crops
Number of
applications
per season
Crop phenological stage
BBCH
stage
Product
application
rate
[kg/ha]
Spray solution
application
rate
[L/ha]
Legumes
2
stem elongation
30-39
4
200-300
development of pods and seeds
70-79
4