Characteristics
ADOB® Micro Maize is a multinutrient, multifunctional crystalline fertiliser. This fully water-soluble product is specifically designated for the foliar feeding of all types of maize crops. It has a precisely balanced combination of nitrogen (N), magnesium (Mg), sulphur (S) and high levels of phosphorus (P). It contains all six micronutrients (boron (B), copper (Cu), iron (Fe), molybdenum (Mo), manganese (Mn) and zinc (Zn)), with an emphasis on high levels of boron and very high levels of zinc.
All micronutrients (except boron and molybdenum) are chelated by the classic EDTA agent, while boron and molybdenum (which cannot be chelated) are present as water-soluble, inorganic components. As a result, all nutrients are readily and quickly available to maize plants. This unique combination of essential nutrients ensures the optimal development of plants' biomass, shoots, roots and flowers.
ADOB® Micro Maize boosts plants' vigour, improves their health and effectively prevents nutrient deficiencies. All of this contributes to an increased number of kernels per ear and per 1000-grain weight, which directly translates into a substantial grain yield.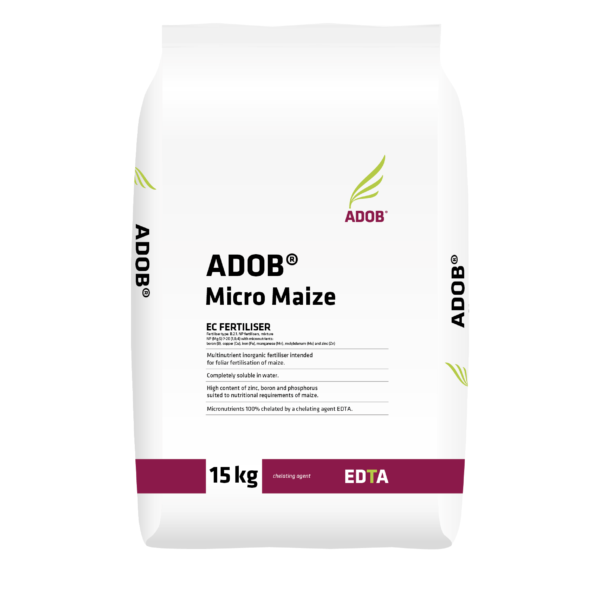 Features
100% chelation of micronutrients
enhanced development of all plant parts
contains sulphur and magnesium
macro- and micronutrient fertiliser
contains all micronutrients
Download
Scroll left/right to see more
Nutrients
Symbol
Content
[% w/w]
Form
Total nitrogen
N
7.0
– ammonium nitrogen
N-NH4
5.2
– amide nitrogen
N-NH2
1.8
Phosphorus pentoxide
P2O5
20.0
soluble in a neutral-pH solution of ammonium citrate and water
Magnesium oxide
MgO
3.0
soluble in water
Sulphur trioxide
SO3
10.0
soluble in water
Boron
B
2.0
soluble in water
Copper
Cu
0.1
chelated by EDTA
Iron
Fe
0.2
chelated by EDTA
Manganese
Mn
0.5
chelated by EDTA
Molybdenum
Mo
0.01
soluble in water
Zinc
Zn
4.0
chelated by EDTA
Scroll left/right to see more
Crops
Number of applications per season
Crop phenological stage
BBCH stage
Product application rate
[kg/ha]
Spray solution application rate
[l/ha]
Maize
2
4-6 leaves
14-16
3
200-300
6-8 leaves
16-18
3