Characteristics
ADOB® PK is a binary-nutrient, multifunctional liquid fertiliser for nourishing arable, vegetable, floriculture and orchard crops through foliar spray.
It contains high concentrations of phosphorus and potassium, with an analysis of 0-19-14 (N-P2O5-K2O respectively). As it is already in a liquid form, these nutrients are readily and quickly available to a broad range of target crops.
ADOB® PK is recommended as a side/top dressing when soil is relatively low in available phosphorus and/or potassium. In these conditions, it can prevent phosphorus and potassium deficiencies, especially under unfavourable weather conditions such as cold, waterlogging or occasional drought.
ADOB® PK improves plants' water status, stimulates root development, boosts flowering and increases carbohydrate content in the fruits. Remarkable effects can be expected when crops grow on soils with a pH below 5.5 or above 7.2, in soils with highly sandy texture, and when a high rate of ammoniacal nitrogen has been applied. The fertiliser also boosts plants' vigour, health and winter hardiness.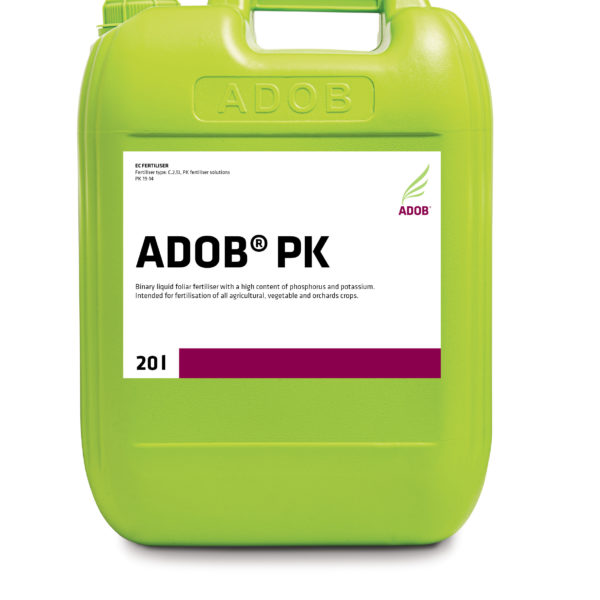 Features
preventive and corrective effect
fast P and K deficiency correction
enhanced water-stress resistance
enhanced root development
Download
Scroll left/right to see more
Nutrients
Symbol
Content
[% w/w]
Content
[% w/v]
Content
[g/l]
Form
Phosphorus pentoxide
P2O5
19.0
25.0
250.0
soluble in a neutral-pH solution of ammonium citrate and water
Potassium oxide
K2O
14.0
19.0
190.0
soluble in water
Scroll left/right to see more
Crop
Number of applications per season
Crop phenological stage
BBCH stage
Product application rate
[l/ha]
Spray solution application rate
[l/ha]
Arable crops
Cereals
1
4-8 leaves
14-18
8-10
200-300
Rapeseed
2
4-8 leaves
14-18
5
beginning of stem elongation
30-31
5
Maize
1
4-6 leaves
14-16
8
Potatoes
2
tuber formation
40-49
6
fruit development
70-73
6
Sugar beets
1
4-6 leaves
14-16
8
Legumes
1
stem elongation
30-39
6
Vegetable crops
Bulb vegetables
e.g. onion, leek
2
development of harvestable vegetative plant parts
41-45
5
300-500
development of harvestable vegetative plant parts
46-49
5
Cucurbits
e.g. pumpkin, zucchini, cucumber
2
flowering, fruit development
61-79
5
ripening of fruit and seeds
81-89
5
Brassica plants
e.g. cabbage, cauliflower, broccoli
2
development of harvestable vegetative plant parts
41-45
6-8
development of harvestable vegetative plant parts
46-49
6-8

Root vegetables
e.g. carrot, celery, beet
2
development of harvestable vegetative plant parts
41-45
4-6
development of harvestable vegetative plant parts
46-49
4-6
Solanaceous
e.g. tomato, pepper, early potato
2
fruit development
71-79
5
ripening of fruit and seeds
81-89
5
Legumes
e.g. bean, pea
2
inflorescence emergence and flowering
51-69
4-6
pod development, ripening of pods and seeds
71-81
4-6

Orchard crops
Stone-fruit trees
e.g. sour cherry, sweet cherry
2-3
white bud
57-59
4-6
500-800
fruit development
72-79
4-6

Pome trees
e.g. apple, pear
2-3
fruit development
74-79
4-6
fruit ripening
81-85
4-6
Soft fruits
e.g. strawberry, blueberry
2-3
leaf development
15-19
4-6
300-500
flowering and fruit development
65-79
4-6