Characteristics
ADOB® Starter is a multinutrient, multifunctional liquid fertiliser for the seed treatment (priming) of winter and spring cereal seeds. It contains magnesium, the micronutrients copper (Cu), iron (Fe), zinc (Zn), and very high levels of manganese (Mn). These micronutrients are all chelated by the modern, biodegradable IDHA agent, making them readily and quickly available to the germinating seeds.
ADOB® Starter's unique combination of essential nutrients ensures earlier and optimal germination, emergence and development of seedlings. It also enhances plant resistance to low temperatures and frost. All of this, in turn, supports higher grain yield.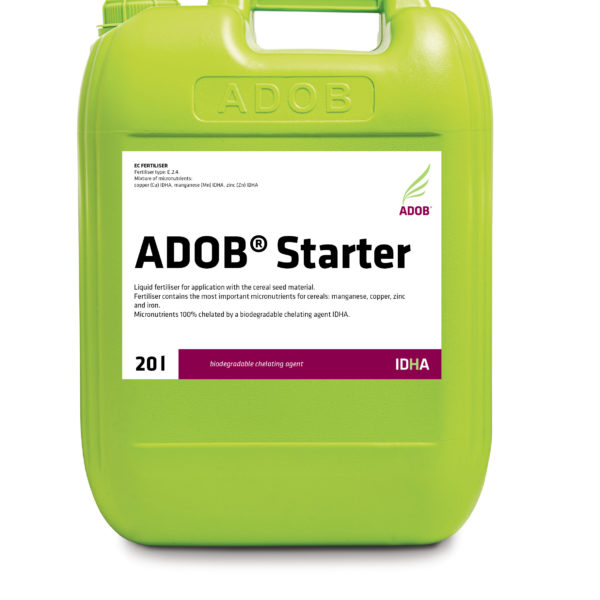 Features
100% chelation of micronutrients
applied with seed treatment
enhanced cereal emergence
enhanced resistance to low temperatures
Download
Scroll left/right to see more
Nutrients
Symbol
Content
[% w/w]
Content
[% w/v]
Content
[g/l]

Form
Copper
Cu
0.4
0.5
5.0
chelated by IDHA
Manganese
Mn
2.0
2.6
26.0
chelated by IDHA
Zinc
Zn
0.6
0.8
8.0
chelated by IDHA
Contains magnesium (Mg) and iron (Fe). Stability of the chelated fraction guaranteed at pH range 3-7.
Scroll left/right to see more
Crops
Number of applications per season
Time of application
Product application rate
[l/100 kg of seeds]
Autumn cereals
1

seed treatment
0.25
Spring cereals
1
seed treatment
0.25