Characteristics
ADOB® Sulphur is a multinutrient, multifunctional, free-flowing and non-hygroscopic crystalline fertiliser. This fully water-soluble product is intended for foliar application to arable, vegetable, floriculture and orchard crops. It features high levels of nitrogen (N) and magnesium (Mg) (14% each), and an extremely high concentration of sulphur  (SO3, 44%). Additionally, it contains a relatively high concentration of manganese (Mn, 0.4%) that is fully chelated by the classic EDTA agent. This ensures that all nutrients in ADOB® Sulphur are readily and quickly available to all plants.
Applying this N-Mg-S rich fertiliser ensures control and prevention of sulphur deficiency in crops. This is especially true for crops renowned for their high sulphur requirements, such as oil-seed rape and brassica vegetables (e.g. broccoli, cabbage and Brussels sprouts).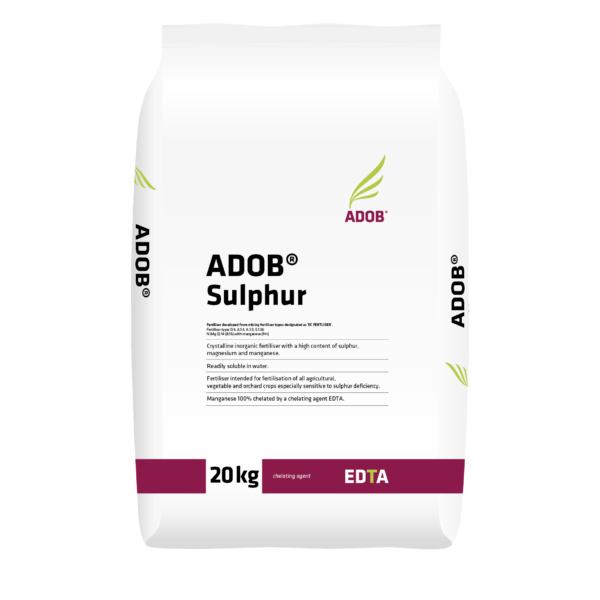 Features
fast dissolution and complete solubility
a mixture of various EC fertilisers
preventive and corrective effect
contains nitrogen and magnesium
supplementation of soil fertilisation
fast and efficient S uptake
Download
Scroll left/right to see more
Nutrients
Symbol
Content
[% w/w]
Form
Total nitrogen
N
14.0
– ammonium nitrogen
N-NH4
8.3
– amide nitrogen
N-NH2
5.7
Magnesium oxide
MgO
14.0
soluble in water
Sulphur trioxide
SO3
44.0
soluble in water
Manganese
Mn
0.4
chelated by EDTA
Stability of the chelated fraction guaranteed at pH range 4-8.
Scroll left/right to see more
Crops
Number of applications per season
Crop phenological stage
BBCH stage
Product application rate
[kg/ha]
Spray solution application rate
[l/ha]
Arable crops
Cereals
2

tillering
25-29
2
200-300
first node to flag leaf
31-39
2
heading
51-59
2
Rapeseed
3
beginning of stem elongation
30-31
2
3 to 8 visibly extended internodes
33-38
2
green bud
51-53
2
Maize
1
4-6 leaves
14-16
2
Potatoes
2
inter-row closure
31-39
2
tuber formation
40-49
2
Sugar beets
1
inter-row closure
32-39
2
Soybean
1
development of side shoots and the main shoot
21-49
1
Legumes
1
stem elongation
30-39
2
Vegetable crops
Bulb vegetables
e.g. onion, leek
3
leaf development
13-15
3
300-500
leaf development
16-19
3
development of harvestable vegetative plant parts
41-45
3-5
Cucurbits
e.g. pumpkin, zucchini, cucumber
3
formation of side shoots, inflorescence emergence
21-59
5
flowering and fruit development
61-79
5
ripening of fruit and seeds
81-89
5
Brassica plants
e.g. cabbage, cauliflower, broccoli
2-3
leaf development
14-19
3-5
development of harvestable vegetative plant parts
41-42
3-5

development of harvestable vegetative plant parts
43-45
5
Root vegetables
e.g. carrot, celery, beet
2-4

leaf development
11-13
3
leaf development
14-19
3-5

development of harvestable vegetative plant parts
41-45
5
development of harvestable vegetative plant parts
46-49
5
Solanaceous
e.g. tomato, pepper, early potato
3-4

leaf development
13-15
2
leaf development and formation of side shoots
16-29
3
inflorescence emergence and flowering
51-69
3-5
fruit development
71-79
3-5
Legumes
e.g. bean, pea
2
leaf development
16-19
5
development of side shoots and the main shoot
21-39
5
Orchard crops
Stone-fruit trees
e.g. sour cherry, sweet cherry
1-2
fruit development
72-79
2-3

500-800
Pome trees
e.g. apple, pear
1-2
fruit development
74-79
2-3
Soft fruits
e.g. strawberry, blueberry
2-3
start of vegetation
10-13
2-3
300-500
fruit development
71-79
2-3