Characteristics
ADOB® MA is a multinutrient, multifunctional concentrated liquid fertiliser specifically designated for row soil application in maize fields. It has a customized analysis of 19 – 3.8 – 5 + 0.24 MgO + 0.48 SO3 + 0.06 IDHA – Zn. All nutrients are quickly available to maize plants in their early developmental stages.
When applied simultaneously with seeding, ADOB® MA accelerates the emergence of seedlings and intensifies initial growth. The plant develops a well-ramified root system and is ready to cope even with cold spring or occasional drought events. ADOB® MA boosts plants' vigour and health, contributing to a more abundant yield.
Applying ADOB® MA when seeding also offers the grower savings on field operations and NPK rates by providing higher nutrient-use efficiency.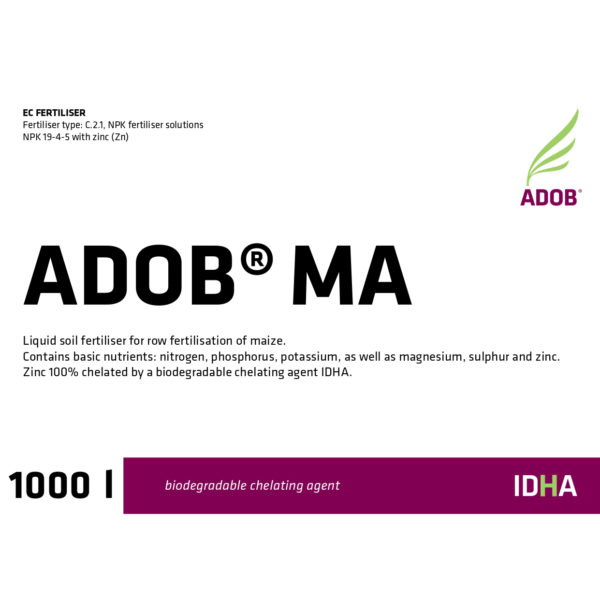 Features
lower fertilisation costs
Download
Scroll left/right to see more
Nutrients
Symbol
Content
[% w/w]
Content
[% w/v]
Content
[g/l]
Content in 330 L/ha
[kg/ha]
Total nitrogen
N
19.0
24.2
242.0
79.86
– nitrate nitrogen
N-NO3
4.8
6.1
61.0
20.13
– ammonium nitrogen
N-NH4
4.8
6.1
61.0
20.13
– amide nitrogen
N-NH2
9.4
12.0
120.0
39.6
Phosphorus pentoxide
P2O5
3.8
4.8
48.0
15.84
Potassium oxide
K2O
5.0
6.4
64.0
21.12
Zinc
Zn
0.06
0.075
0.75
0.25
Contains magnesium (Mg) and sulphur (S)
Density 1.27-1.29 g/cm3
Scroll left/right to see more
Crops
Number of applications per season
Time of application
Product application rate [L/ha]
Time of application
[l/ha]
Maize
1
row application during sowing or entire soil surface coverage by spraying

330