Characteristics
ADOB® Microstarter B is a multinutrient, multifunctional fertiliser specifically designated for soil application to maize, sugar beet, rapeseed, potato, sunflower and vegetables. It takes the form of non-hygroscopic, dust-free, and free-flowing solid microgranules, all of which are uniform in size and shape. Its analysis is multicrop- customized at 16 MgO + 33 SO3 + 0.09 B + 0.1 Fe + 1 Mn + 0.01 Mo + 3 Zn and all three latter cations are EDTA-chelated. All nutrients are soluble and highly available to plants in their early developmental stages.
When applied simultaneously with seeding in close proximity to the seeds/tubers, ADOB® Microstarter B accelerates the emergence of plantlets, boosts the development of their root system and enhances tolerance to cold/frosty spring or occasional drought events. As a result, plants can close inter-row spaces earlier and intercept more sunlight.
ADOB® Microstarter B increases yields' biomass. It boosts sugar, starch and oil contents and significantly reduces the cull ratio.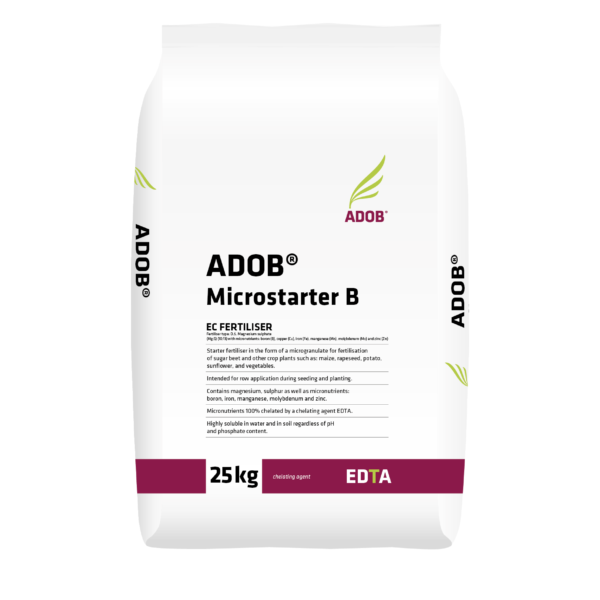 Features
100% chelation of micronutrients
macro- and micronutrient fertiliser
enhanced stress resistance
Download
Scroll left/right to see more
Nutrients
Symbol
Content
[% w/w]
Form
Magnesium oxide
MgO
16.0
soluble in water
Sulphur trioxide
SO3
33.0
soluble in water
Boron
B
0.09
soluble in water
Iron
Fe
0.1
chelated by EDTA
Manganese
Mn
1.0
chelated by EDTA
Molybdenum
Mo
0.01
soluble in water
Zinc
Zn
3.0
chelated by EDTA
Scroll left/right to see more
Crops
Number of applications per season
Time of application
Product application rate
[kg/ha]
Application method
Arable crops
Maize
1
during sowing
20-30
applied in the seed row, several cm away and beneath seeds/tubers
Sugar beets
1
during sowing
20-30
Winter rapeseed
1
during sowing
20-30
Sunflower
1
during sowing
20-30
Potatoes
1
during planting
20-30
Vegetable crops
Root vegetables
e.g. carrot, celery, beet
1
during sowing
20-30
applied in the seed row, several cm away and beneath seeds
Brassica plants
e.g. cabbage, cauliflower, broccoli
1
during sowing
20-30
Legumes
e.g. bean, pea
1
during sowing
20-30
Bulb vegetables
e.g. onion, leek
1
during sowing
20-30
Cucurbits
e.g. pumpkin, zucchini, cucumber
1
during sowing
20-30