Characteristics
ADOB® OR is a multinutrient, multifunctional concentrated liquid fertiliser specifically designated for soil application to wide-row, winter and spring rapeseed fields. Its analysis is crop-customized at 2 – 8.85 – 9.9 + 0.23 MgO + 2.25 SO3 + 0.13 B + 0.022 IDHA – Mn + 0.018 IDHA – Zn. All nutrients are quickly available to rapeseed plants in their early developmental stages.
When applied simultaneously with seeding, ADOB® OR accelerates the emergence of seedlings and intensifies initial growth. The plant develops a well-ramified root system and its tolerance to cold spring, or occasional drought events is enhanced. Moreover, ADOB® OR boosts plants' resistance to pathogens and improves flower formation. ADOB® OR also boosts plants' vigour, health and winter-hardiness, contributing to abundant grain and oil yields.
Applying ADOB® OR when seeding also offers the grower savings on field operations and NPK rates by providing higher nutrient-use efficiency.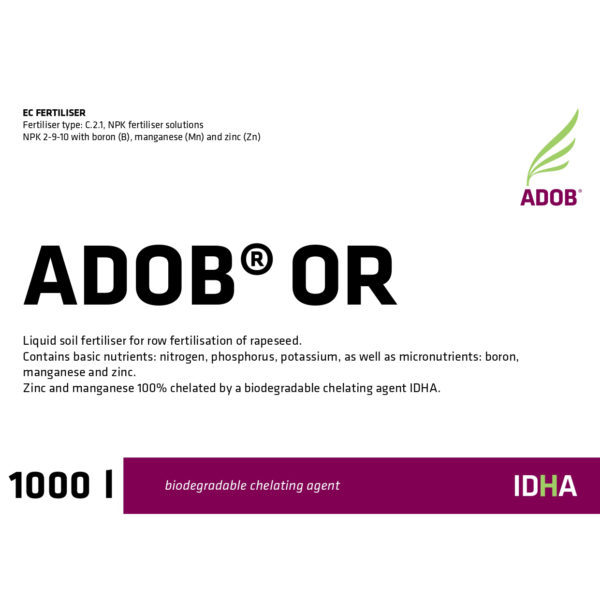 Features
lower fertilisation costs
contains sulphur and boron
Download
Scroll left/right to see more
Nutrients
Symbol
Content
[% w/w]
Content
[% w/v]
Content
[g/l]
Content in 440 L/ha
[kg/ha]
Total nitrogen
N
2.0
2.4
24.0
10.56
– nitrate nitrogen
N-NO3
0.3
0.4
4.0
1.76
– ammonium nitrogen
N-NH4
1.0
1.2
12.0
5.28
– amide nitrogen
N-NH2
0.7
0.8
8.0
3.52
Phosphorus pentoxide
P2O5
8.85
10.8
108.0
47.52
Potassium oxide
K2O
9.9
12.1
121.0
53.24
Boron
B
0.13
0.16
1.6
0.7
Manganese
Mn
0.022
0.027
0.27
0.12
Zinc
Zn
0.018
0.023
0.23
0.1
Scroll left/right to see more
Crops
Number of applications per season
Time of application
Product application rate
[l/ha]
Rapeseed
1
row application during sowing or entire soil surface coverage by spraying

440